Blueprint OMS V2.5
See What's New in 2.5
Feature highlight: Medical report writer
Personalized text library
Creating forms and reports is fast and easy with the new personalized text library in Blueprint OMS.
When editing on screen, users can select from a library of personalized text "snippets" — phrases which are frequently used. Users can simply double-click (or drag and drop) a snippet to use it, or type the "Auto text" shortcut which will be automatically replaced.
The library is organized into categories, and a category or snippet can be available to all clinic staff (the default), or "personal" (available only to the user who created it).
New medical report templates
We have created several new medical report templates which can be used as is, or customized as needed.
Basic report — Tympanometry and acoustic reflex
Basic report — Tympanometry graph
Physician report with cover letter
Physician report — single page, no tympanometry
Patient report
Patient report with audiogram
The templates are available for download on our Marketing resources page, and can be added to your Blueprint system from the Setup –> Templates screen.
Spell checking
Blueprint OMS now features built-in spell checking for the following:
Text fields on medical reports
Journal notes
Appointment notes
Patient notes
The built-in dictionary includes many hearing and audiology-related terms, and additional words (such as the names of clinicians) can be added to the clinic's "personalized" dictionary.
Feature highlight: Enhanced audiometry
Viewing of typanometry received from Noah
Tympanometry entered in Noah is now visible on the patient Audiology screen.
The graphs and data can also be shown on reports generated in Blueprint, including the standard Hearing Assessment and Physician report.
Entry of masked values
When entering pure tone thresholds it is now possible to enter masked values.
Viewing/editing of speech data
Speech thresholds can now be viewed and edited in Blueprint.
Viewing/editing of different threshold types
In addition to Air conduction (AC) and Bone conduction (BC), the following threshold values can now be viewed and edited:
MCL (Most comfortable level)
UCL (Uncomfortable level)
SF (Sound field)
SF-A (Sound field – aided)
Extended high-frequency (EHF) audiograms
When data has been entered for frequencies above 8KHz, EHC audiograms will be displayed on the Audiology screen, and used in printed reports.
Automatic classification of loss severity
When audiometry is received from Noah, Blueprint can automatically determine the severity of the hearing loss severity based on the Pure Tone Average setting in Noah.
The default threshold values for the various severities are shown below. If your clinic would like to use different values, please contact our technical support team to make the changes.
Marketing
Upload editable PDF templates
You can now create your own editable PDF templates and upload them to Blueprint, using the Setup –> Templates function.
A new Upload button makes it easy to find and select files to be added.
Create "editable" merge fields in Word templates
Merge fields used in Word templates can also be made editable on-screen.
Detailed instructions for doing so are on our Marketing resources page.
Reports
"Open invoices" reports moved to "Reports (new)"
Reports on open A/R transactions are now available from the Tools –> Reports (new) menu.

General enhancements
Authorization no. shown on "Enter 3p payment" screen
When entering insurer payments, authorization numbers are now shown on screen.
Insurer authorization numbers can also be easily edited from the patient Sales History screen or the 3rd party ledger by right-clicking on an invoice.
New "upload" button for patient documents
The new Upload button opens a File chooser window and makes it easy to find files and add them to the patient Documents screen.
Automatic appointment deletion for deceased patients
When changing a patient's status to Deceased, any future appointments will automatically be deleted.
"Teacher" added to relationship type list
Teacher is now available when specifying the relationship of an alternate contact to the patient.
Deliver multiple hearing aids in a single step
Binaural orders can now be delivered in a single step, for quick and easy invoicing.
Easier entry of color and notes for aids
When ordering two hearing aids, the color and notes entered for the first aid are automatically pre-filled for the second aid.
Email patients by clicking on email address
Clicking on a patient email address (either from the Patient browser, or the patient Summary screen) will create a new message in your native email application with the patient as the recipient.
Full physician details shown in selection list
When selecting a patient's family physician, full details of the physician's clinic are shown when hovering over each choice.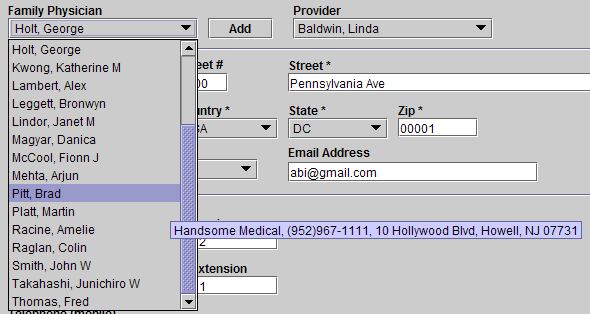 Bug fixes
Rescheduling action should not be allowed for past events which are Completed.
Recipient fax numbers are correctly formatted when using the recipient_faxNo merge field on templates.
Aids cannot be received if they were ordered, received, then sent for repair.